NanoAndMore presents NanoWorld AFM probes for ultra high speed scanning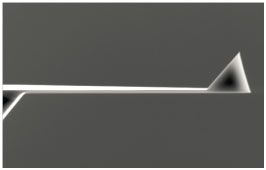 The most often used standard probe for ultra-high speed scanning is the NanoWorld A R R O W ™ UHF

The Arrow™ UHF (Ultra High Frequency) is a silicon SPM and AFM probe with a tetrahedral tip and a triangular cantilever capable of resonating with an ultra high frequency of up to
2.0 MHz. On request, specific cantilever thicknesses are selected within very narrow tolerances for
an extra selection fee.
The Arrow UHF is optionally also available wth a gold reflex coating.
For more developments for the emerging field of
high speed scanning please have a look below.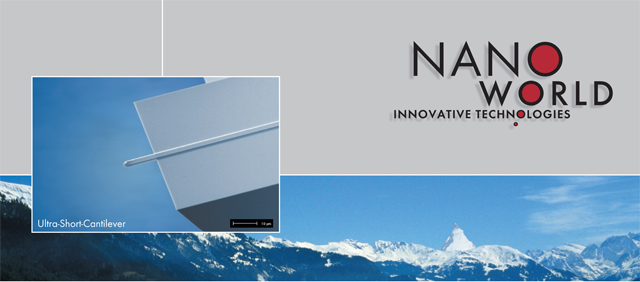 Cantilever 3D View

Cantilever Top View

Tip Front View

Tip Detail


Support Chip 3D View
Next generation of AFM Probes for High Speed Scanning
Concept
development of very short, narrow and thin cantilevers with Electron Beam Deposited
(EBD) tip for High Speed Scanning applications for present and future AFM systems
different cantilever materials are evaluated:
Si (poly/single crystal/111), SiN, New Material ("NM")
joint development between NanoWorld AG and nanotools GmbH
Description of Ultra-Short-AFM-Cantilevers (USC) made of New Material
Cantilevers
different prototypes of Ultra-Short cantilevers have been developed and
fabricated resulting in different mechanical properties:
calculated values
| | | | | | | | |
| --- | --- | --- | --- | --- | --- | --- | --- |
| Resonance Frequency [kHz] | 5000 | 2000 | 1500 | 330 | 1300 | 1250 | 500 |
| Force Constant [N/m] | 30 | 3.0 | 0.6 | 0.3 | 1.2 | 7.8 | 0.75 |
| CB length [m] | 10 | 10 | 7 | 20 | 10 | 20 | 20 |
| CB width [m] | 5 | 5 | 3 | 10 | 5 | 10 | 10 |
| CB thickness [nm] | 680 | 280 | 100 | 190 | 190 | 680 | 280 |
Highlighted are the versions considered for commercialization in a first step
Tip
nanotools® High Dense Carbon (HDC) tip with the following dimensions:
Height: > 2.0 m (typically 2.5
m)
Tip radius: < 10 nm
Aspect ratio: approx. 1:5
Tilt compensation: 8±1 deg
Support chip
dimensions of the Si support chip are very reproducible (1.6 mm x 3.4 mm)
etched and lowered corners of the Si support chip avoid contact
between the Si support chip and the sample
Coating
30 nm Gold reflex coating on both sides of the cantilevers (tip uncoated)
Status
prototypes available (have been validated by external tests)
pre-production status: more than 50 wafers have been fabricated
ongoing beta testing
For more information you can visit www.nanoandmore.com