NanoAndMore presents NANOSENSORS new highly conductive and wear resistant Platinum Silicide AFM Probes

Platinum silicide probes: highly conductive AFM probes with small radii and high wear resistance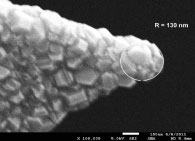 Conductive diamond probes. Advantages: hard, long-lasting coating. Disadvantages: large radius, low conductivity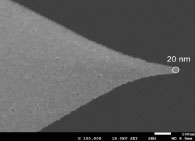 Advantages: small radius, excellent conductivity, good wear-out behavior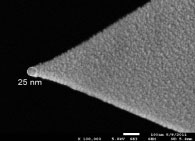 Platinum(Iridium) coated probes. Advantages: relatively small radius, excellent conductivity. Disadvantages: fast wear-out
Extremely durable: C-AFM comparison of PtSi and Pt probes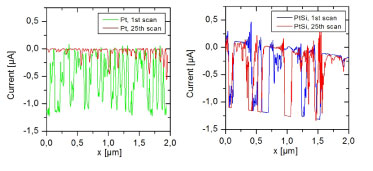 Cross sections of current images of (a) a commercial Pt probe (Pt, left image) and (b) a PtSi probe (PtSi, right image).
TUNA mode, DI Icon, sample bias -0.25V, force 1μN, total tip travel distance 13mm. For each tip a cross section out of the first
and the last scan is shown.
Silicide tip advantages
Formation of a hard and massive conductive tip apex instead of only a few ten nanometer deposited metal coating at the tip apex
Smaller radius than PtIr coated probes. About 5 to 6 times smaller than diamond coated tips
Metal (PtIr) like conductivity. About 10 times better conductivity than conductive diamond
Dramatically reduced wear rates compared to silicon and PtIr coated tips
Product list
 
Type
Application
Force Constant
[N/m] (nominal)
Res. Frequency
[kHz] (nominal)
Coating (backside)
Non-Contact
PtSi-NCH
C-AFM, TUNA
42
330
PtSi
(PtSi reflective)
PtSi-FM
C-AFM, TUNA,
SCM
EFM, KPFM,
2.8
75
PtSi
(PtSi reflective)
Contact
PtSi-CONT 0.2
C-AFM, TUNA,
SCM
0.2
13
PtSi
(PtSi reflective)
AVAILABLE SOON

For more information you can visit www.nanoandmore.com