TipsNano Company announces New Development - Modular Research AFM Corvus
Advantages of Corvus:
modular

decoupled X,Y,Z flexure stage with high accuracy optical sensor

open design of measuring head

high resolution

powerful software for image acquisition and processing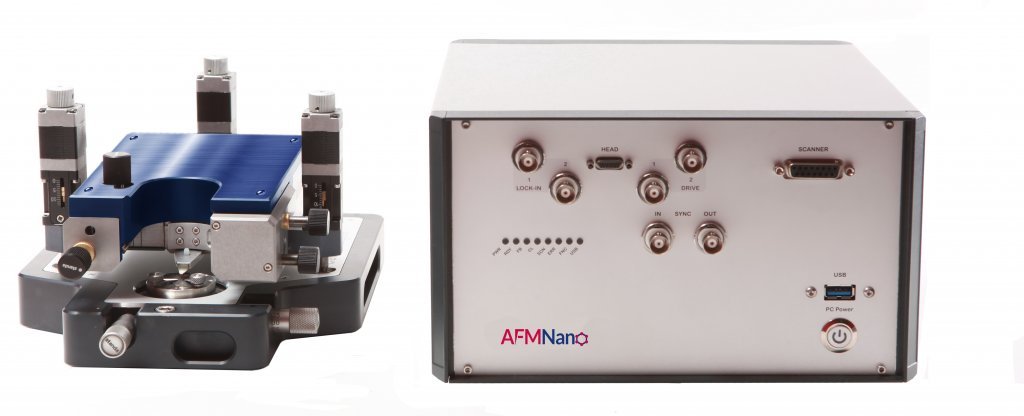 Specifications:

Scanner Type: XYZ stage
Resonant frequency XY - 1 kHz
Resonant frequency Z - 30 kHz
Nonlinearity  <0.1%
Availability of optical interference sensors
Range of manual sample positioning: 5х5mm
The accuracy of manual sample positioning: 5 um
AFM spatial resolution (XY, lateral) <0.1 nm
AFM spatial resolution (Z, vertical)         <0.01 nm

Over 30 SPM modes realized: 

Contact modes: measurement of normal forces, lateral forces, topography (feedback error), force curves
Tapping modes: non-contact and semi-contact methods, topography (feedback error)
Phase contrast
Jumping Mode
measurement of surface potentials
Scanning Kelvin probe
Spreading resistance
Magnetic and electrical force microscopy
       
Latex microspheres on the substrate.
scan size 10х10 um.
Cantilever NSG03, Tapping mode.
Images of the DNA molecules deposited on 
mica. scan size 160х160 nm.
Cantilever FMG01_SS, Tapping mode.